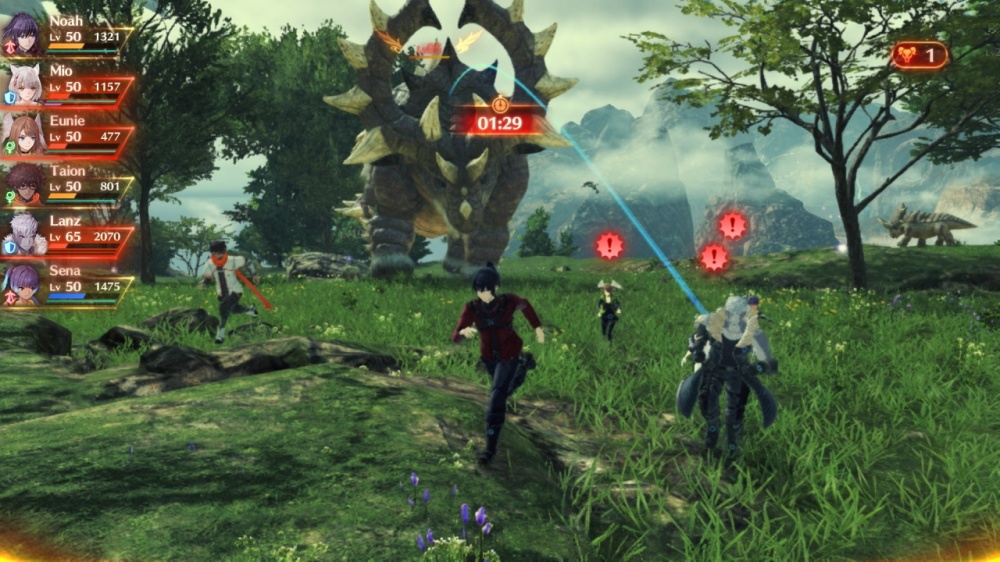 The 10 Best Nintendo Switch JRPGs in 2022 – SwitchArcade Special – TouchArcade
We've been making lists of our favorite Switch games in each genre for a while now, and a few things have come to mind. First, we lack genres that are not very specific. Second, the lists we made at the start of all this are now several years old and could certainly use addenda to reflect the explosive growth of the Nintendo Switch library since then. Thus, a follow-up to our very popular 10 best JRPG for Nintendo Switch special. This does not overwrite the previous list, but rather adds to it. In no particular order, here are ten more amazing JRPGs for Nintendo Switch.
Xenoblade Chronicles 3 ($59.99)
What better place to start with this list than the latest amazing releases from Nintendo and Monolith Xenoblade Chronicles series? Xenoblade Chronicles 3 is just as mechanically dense and massive as the second game, if not more so, but thematically and stylistically it feels like a return to the feel of the first game. cool world to explore and tons of side missions to undertake. A fantastic game to get lost in.
Persona 5 Royal ($59.99)
Practically since the launch of the Nintendo Switch, many people have been asking personas 5 be on the platform. These requests increased in intensity after Joker was announced as a character for Super Smash Bros Ultimateand everything became pretty one ridiculous after Persona 5 Strikers has been freed. But here we are, everyone: Persona 5 Royal is on Switch with a large port, and its unique and stylish atmosphere is completely intact. Join the Phantom Thieves and get ready to steal hearts. The first one they're going to steal is… yours. Sorry.
Atelier Sophie 2: The Alchemist of the Mysterious Dream ($59.99)
I always like to have a Workshop game in my rotation, because they're both mechanically very compelling and thematically very relaxing. Sophia 2 workshop is no exception, picking up where the first Sophie's workshop left for a fascinating side story set in what appears to be an alternate world. You'll meet new characters, learn new things about old ones, and have a great time creating and adventuring.
Live Live ($49.99)
Western gamers had to wait a very long time to get an official release of this one, but it was definitely worth the wait. Rendered in stunning HD-2D, live alive is not just a simple reissue of the original game but a complete remake. One that respects the original to a great extent, but isn't afraid to spruce things up a bit. Even if it had been intact and simply localized for Western audiences, it would probably still be on this list. A bit of JRPG, a bit of adventure, and a story you won't forget.
Pokemon Legends: Arceus ($59.99)
As far as we can identify defects in Pokemon games all day, the fact is, they scratch a peculiar itch that few other games do. Pokemon Legends: Arceus introduced many exciting new mechanics to the Pokemon gameplay structure, making it one of the freshest games the series has seen in a very long time. Some of that carries over to the sequel, but there's a certain flavor to the setting of Pokemon Legends this will ensure that it stays relevant for a while.
Shin Megami Tensei V ($59.99)
I know Character originally from Megami Tensei, but I feel like they're divorced enough now to consider them separate series. That means Shin Megami Tensei V can go on this list, and that's a good thing. One of the recent trends in JRPGs is to introduce a massive ground-level open world to explore, and that fits Shin Megami Tensei like a glove. This installment seems to draw on all the best parts of previous games in the series for a powerful mix that will suck you in with its distinct atmosphere and great mechanics.
Chrono Cross: The Radical Dreamers Edition ($19.99)
Ah, Chrono-Cross. When first released, it was hailed by many as a 10/10 piece of art. Then a lot of people turned it on, and it earned a reputation as a terrible, very flawed sequel. The truth is somewhere in the middle, but for my money it's closer to that 10/10 than it's typically gotten over the past few years. Abandon status immediately the trigger of a stopwatchalthough it is a very good in a certain sense. Enjoy it for the brilliantly constructed RPG that it is, with a plot so impressive that most of its playable characters are shallow. Whether Final Fantasy VII is perfectly indicative of Square's production in the early PlayStation years, Chrono-Cross is a superb example of its production in the twilight years of the console. Oh, and you get the previously Japan-exclusive Radical dreamers more narrative adventure.
The Legend of Heroes: Trails From Zero ($39.99)
The Trails can be a little tricky to break into, especially if you only have Nintendo consoles at your disposal. While the Trails of cold steel the games are very good, the fact that the third game was the first to hit the Switch makes it feel like you're entering a half-over party. zero trails is not technically the starting point of this narratively dense series, but it is a starting point. The best Switch owners have, really. It's also a very enjoyable RPG with a classic feel and an outstanding, richly developed setting.
Undernauts: Yomi's Labyrinth ($59.99)
When I make these lists, I usually like to include a game that makes most people wonder what I'm talking about. This time it's Undernauts: Yomi's Labyrinth. My friends, I love first person dungeon crawling RPGs. When I was a child, I subsisted Witchcraft and Power and magic. During the DS and 3DS years, I went from Etrian Odyssey at Etrian Odyssey. You don't even want see my PlayStation Vita library. However, I'm picky about what I recommend in this category, and with that in mind, I want you to understand that I'm not suggesting Undernauts slightly. It is made by the experimented the folks at Experience, and its horror themes and new gameplay mechanics ensure it's not just another face in the crowd.
Monster Hunter Stories 2: Wings of Ruin ($59.99)
From gritty horror to brightly colored adventures. Monster Hunter Stories 2: Wings of Ruin is a sequel that I frankly didn't expect given the amount of time that had passed since the release of the first one. Stories take the beloved monster hunter the setting and the trims and gives it a whole new spin, and this episode is a lot less toyetic about how things go. It's also one of the most accessible JRPGs on this list, while still being deep enough for JRPG fans to get what they need out of it. Capcom puts this one on big discount quite often, making it even more of a steal.
That's the list, my friends. Add just a few of these games to your collection and you'll be busy for weeks. More importantly, you will have fun all the time. Do you have any other JRPGs that you like that somehow slipped off our two lists? Post them in the comments below and let everyone know what else they should be looking for in this wild frontier that is the eShop. Thanks for reading!